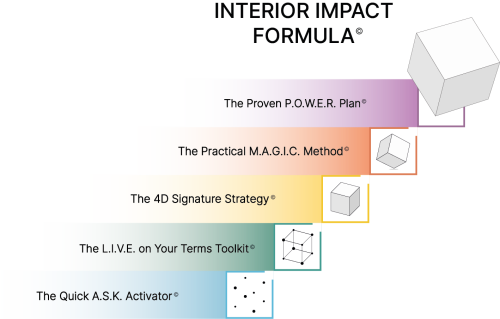 Designed with purpose.
By Interior Designers, for Interior Designers
You are trained as an interior designer, you're good at that, but you know something is missing. Something no one has ever taught you... not in design school, not in life. It's the B-word: Business. How to run a business, an interior design business.

No wonder you are reaching the limits of your own abilities. The limit of hours you can spend each day on your passion, on your work. You want more. You know you can do more, but how?

We'd love to guide you on this amazing journey. Together we are going to grow your business skills, so you will experience more certainty and more freedom. More creative freedom, so you can design the best projects you've ever made!

This formula is specifically created for interior designers who want to make more impact, by putting an Interior Design Process into place that actually works...!
There is ONE simple but very effective strategy to run premium paid, awesome projects. A proven method for your interior design studio.