In this episode of the 'Beyond Interior Design' LIVE SHOW our special guest is Kristoff DuBose. 
After COVID hospitality is booming back, but offices? No, they haven't. Bars, restaurants and hotels became strong competitors of the office space... again.
For years we lived the 'presence first' reality, which means full office buildings. But now the new 'digital first' reality is here, with remote work, more freedom, more autonomy and more choice.
So... what are we going to do with all of our offices? Transform it into a 'digital first' office? We are forced to look at it in a different way.
Therefore we are going to crack "The Office Design Code" with design strategist Kristoff DuBose from London UK. He knows how to make the office a desirable place to be!
Listen to this episode of the Beyond Interior Design Podcast with Kristoff:
Creativity is turning a conversation that has nothing to do with design into a design. It has little to do with materials, colours, architectural shapes.
In this interview we're going to talk about:
'Presence first' reality VS 'Digital first' reality.
How an idea makes his way trough the office.
And… Is a full office is an illusion of control and productivity?
Do you want to know how to convince your clients of your crazy office design ideas? Then watch this episode.
Amazing and surprising things happen when the right approach is taken and the right questions are asked.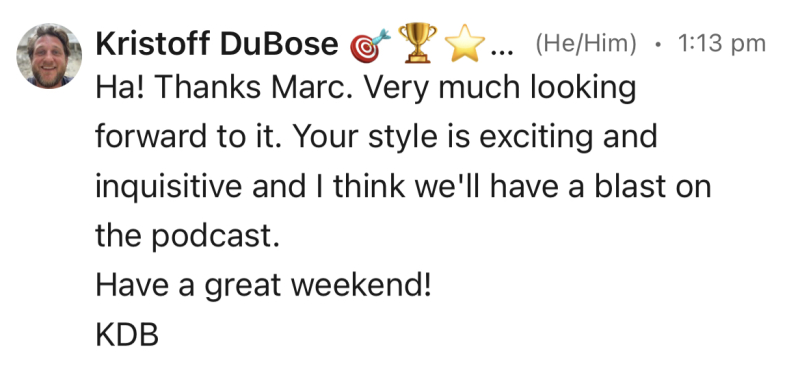 "Kristoff DuBose is an absolute star. So many ideas and so much positivity!"

 - Jon Allgood PgDip MRICS
> This is the research Kristoff is referring to.
There is no work and life. It's just one. You choose your job that fits with your lifestyle, your values.