Today I received a message from one of our preferred contractors we work with in our interior design studio. They do al the built-ins for most of our projects.
Just had to share it with you: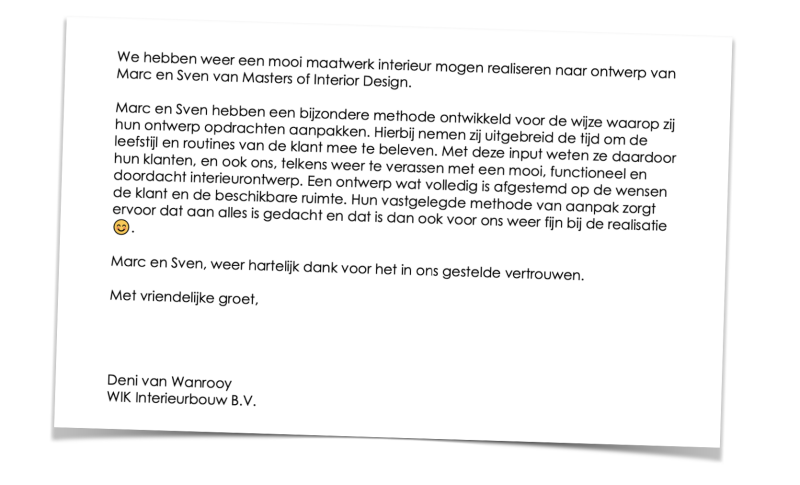 Translation:
We have once again been able to realize a beautiful custom interior designed by Marc and Sven from Masters of Interior Design.
Marc and Sven have developed a special method for the way they approach their design assignments. They take extensive time to experience the lifestyle and routines of the customer. With this input, they know how to surprise their customers, and also us, time and again with a beautiful, functional and well thought-out interior design. A design that is fully tailored to the wishes of the customer and the available space. Their established method of approach ensures that everything has been thought of and that is also nice for us when realizing it.
Marc and Sven, thank you again for the trust you have placed in us. 
Yours sincerely,
Deni van Wanrooy
WIK Interieurbouw B.V.
This is why I love our method so much!
It not only makes our life much easier, not only that of our clients, but also the people we work with. 
I think we spent 2 mails and a phone call on the project management of this project. 
That's it. 
They exactly knew what to do, without difficult drawing sets, changes, etcetera. 
The client kept full trust in the whole design and we were able to focus on what we love (instead of all the acute stuff that comes with project management). 
What would it mean for you...
If your whole project management would just be
2 e-mails and a phone call?
Want to see our method at work? Book a call with someone from my team. They'd love to dive into this with you!